Colour template manager
Allow users to create new templates from predefined already created templates, templates are made in another custom package.

Accounts manager
Created to help manage a companies client list and accounts before automatically creating and emailing out overdue monthly statements.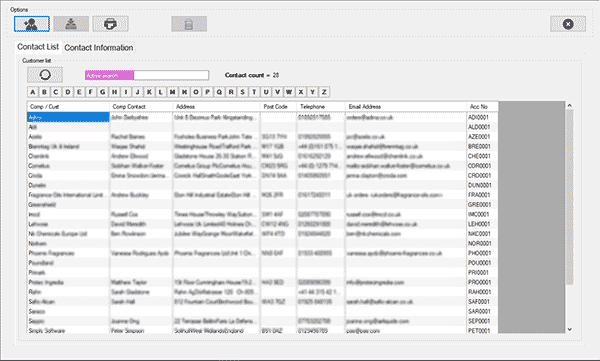 Stock control and order manager for Apple Mac
This application was spcifically created for a director who only uses Apple Macbooks, he wanted to connect to the main database that his employees were using on their Windows machines.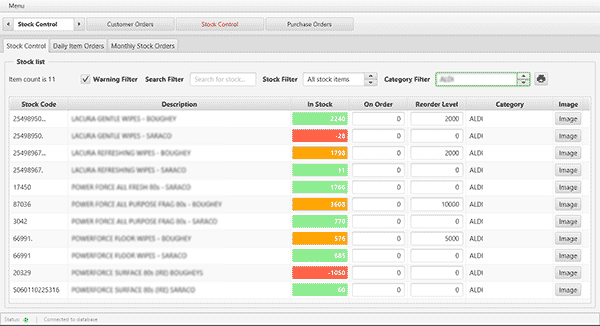 Production order software
Developed to manage the production or manufacturing formulas with the correct products formula quantities, the chart shows at a glance each formula monthly production rate.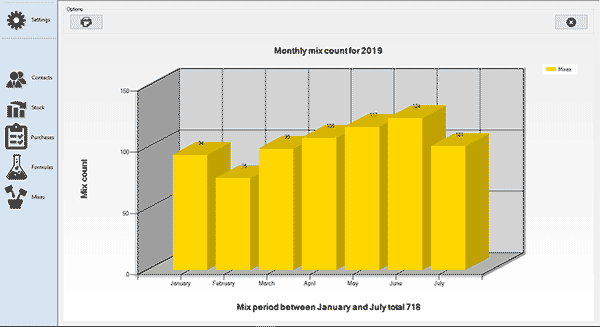 EPoS with barcoding software
Designed to be as simple as possible to use with a Bluetooth barcode scanner. The layout has vastly changed since this screenshot was originally taken.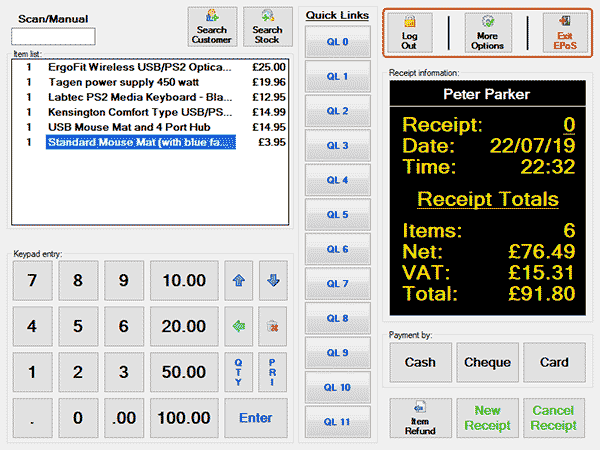 Customer orders system
A simple to use multiple location customer orders system that was created in for both Microsoft Windows and Apple MacOS. It allows for the creation and printing of new customer orders, or if need be you can also edit previous orders.

Job card software
This project was commissioned so that a custom metal manufacturing firm could improve productivity and job tracking orders for their client jobs. Previously they were using pen and paper.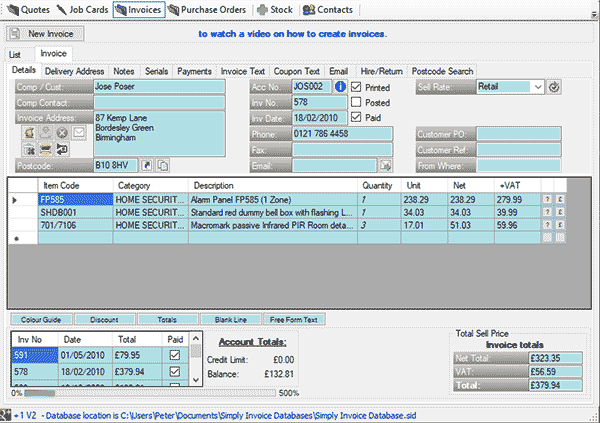 Sales order application for Microsoft Windows and Apple MacOS
This application as created to allow the companies sales team to track particular client orders instantly and more proficiently than ever before, previously they were doing it manually.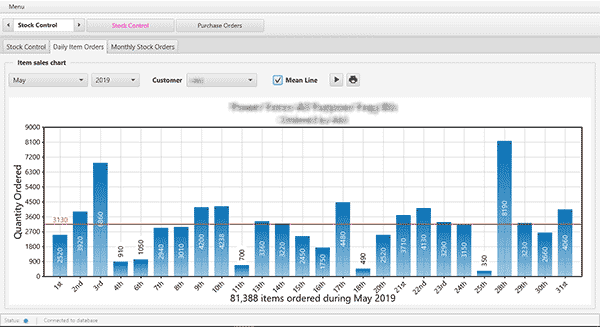 Stock control software
This program includes invoicing, purchasing orders, stock system and also a contact manager to help run an entire business.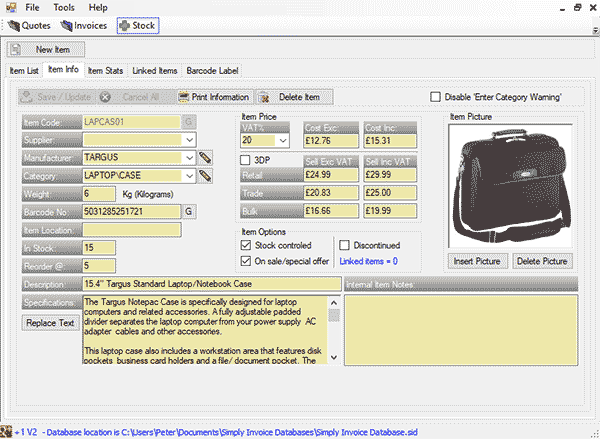 Website ingredients manager
We were contacted by a company as they wanted to manage and display the basic ingredients of what is in their products on a website, this has become standard in their industry. Together we came to the conclusion that it would be better to first create the client a new optimised databases powered responsive website, then we created a desktop application that runs in both Windows and MacOS to control the ingredients display on their new product information website.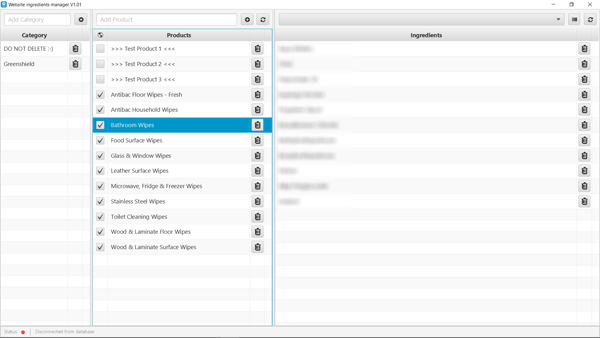 Warehouse packing and shipping label software (12" touch screen enabled)
We were asked by a packing company to create an extremely simple to use warehouse package that processes their online orders. Once the items have been selected, processed and packed, the software prints the relevant (TNT, UPS, DHL Parcel Force etc) packaging labels.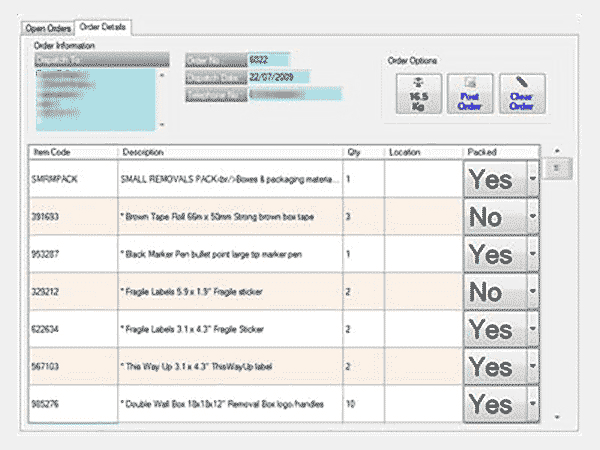 Purchase order software
We created this for a company that needed an easy way to track purchase orders. From creating the initial purchase order from suppliers, to barcode tracking each order item through the system to one of their two warehouse.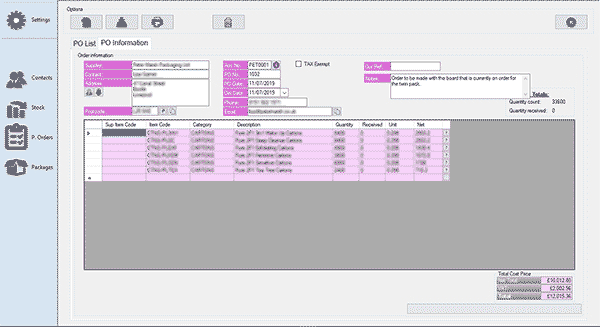 Remote warehouse manager
Created for a firm with multiple warehouse locations. They needed an easy way to create and print picking lists to the correct warehouse ready for multiple couriers to collection.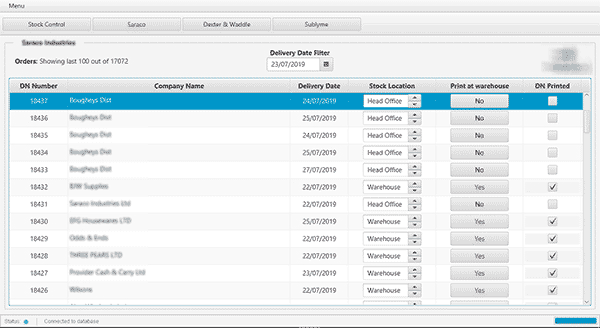 Insurance claim software
We were asked to create bespoke software for an insurance claim company. The software allowed our client to enter all the information that would be required from all parties that were involved in a road vehicle accident. The software retrieved customer addressed via the Royal Mail postcode lookup service and vehicle information via the DVLA vehicle enquiry service. Both the Royal Mail and DVLA supplies API's for developers to use and charge for the information supplied.

Ecwid e-commerce website manager
Interactive Ecwid.com RESTful API interface.
Commissioned to create an interface to link directly into the e-commerce behemoth ecwid.com and the clients current Windows software solution. We created 2 new applications (1. a background worker, 2. a desktop application). Ecwid.com uses a RESTful API to allow developers to access their clients store information with ease.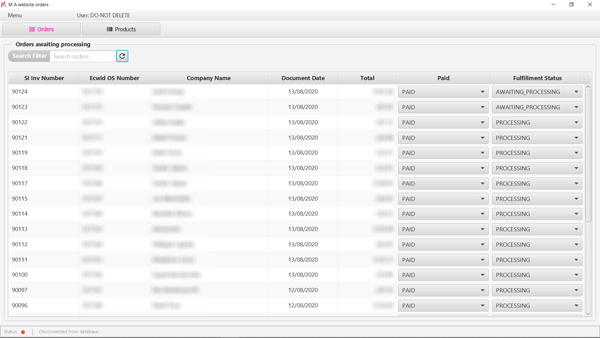 Quote, Invoice, Purchase order and Stock control software
This software was designed to run a small to medium sized business. Invoices can be created from quotes or directly in the invoice screen, invoices also automatically reduces stock levels. Purchase orders can be sent directly to suppliers, full or partial orders received will automatically adjust stock levels. The stock control screen is designed to make managing all stock as simple as possible with prices, live stock levels and item categories. The software also has a customers management screen, sales panel, credit limits, charts plus more.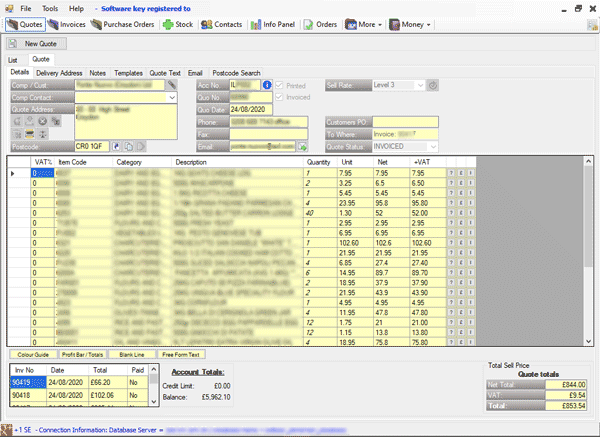 Delivery note software
This simple but powerful software was developed to create and print delivery notes to multiple locations (warehouses) from the head office. Integrated into this software is a delivery notes system, a products management screen and also a contacts management screen. Using this bespoke package the client is able to run their business and manage their warehouses from the head office.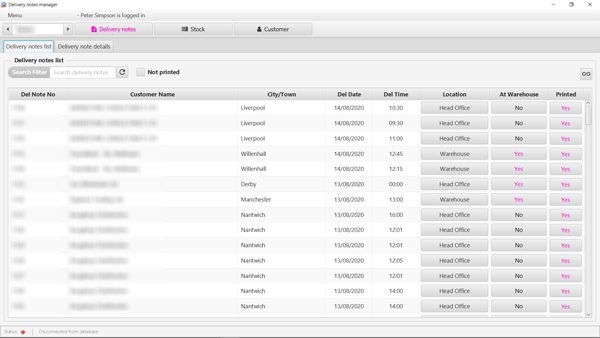 Plus much more...